SPEEDY VIRTUAL LAYAWAY PLAN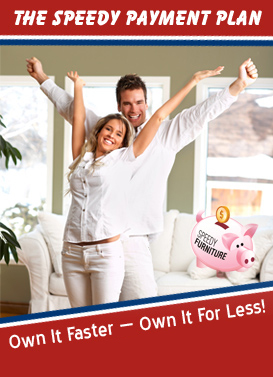 The Speedy Virtual Layaway Plan
Budget Friendly – No Credit Check
Life's full of a never-ending parade of unexpected expenses! Furniture purchases don't have to be one of them! All too often family budgets take a big hit by trying to take advantage of an inopportune furniture sale for the replacement furniture they need or the new furniture they want.
Speedy Furniture's everyday sale-beating prices and the Speedy Virtual Layaway Plan enable you to preplan your furniture purchases and enjoy the savings you want with a mere 10% down payment and easy monthly installments for the balance so your budget will barely feel the purchase!
This is a wise way to buy if you can wait just a little while for your new furniture! In fact, this is becoming very popular with Speedy customers! Many use the Speedy Virtual Layaway Plan regularly to purchase the furniture they want so there's little or no effect on their budget!
Would you like to put the furniture you want on the Speedy Virtual Layaway Plan?
It's simple!
Fill your cart, choose the layaway option at checkout and checkout.